Welcome to Hullett Provincial Wildlife Area
Hullett Marsh is located along the South Maitland River, and along the Atlantic and Mississippi flyways. It is a multi-use, multi-season facility, known best for its waterfowl and pheasant hunting. Opportunities for wild game hunting (with Sunday hunting), hiking, horseback riding, birding, canoeing and various other activities can be found at Hullett Marsh!
In the 1970's and early 1980's, Ducks Unlimited Canada, in partnership with the Ontario Ministry of Natural Resources and Forestry, developed the man-made marsh. Today the marsh is partnered with OMNRF, Ducks Unlimited Canada and a not-for-profit organization known as Friends of Hullett. FOH deals with the day-to-day operation of Hullett Marsh. FOH consists of a board of directors, two staff, and many volunteers and members.
Hullett Marsh is located in Wildlife Management Unit 85B. ALWAYS read and understand provincial, federal, and HPWA rules and regulations before hunting at Hullett Marsh. Hullett supports Sunday hunting which may affect open season dates.
All users of the marsh MUST abide by Federal, Provincial and Hullett rules, act responsibly, ethically and be considerate of fellow users, the property, and neighboring land. Please check the Ontario Hunting Regulations Summary and Federal Migratory Bird Regulations for more information and bag limits.
White-tail Deer:
Bows Only, no dogs: October 1, 2019 - November 3, 2019
November 11, 2019 - December 1, 2019
December 9, 2019 - December 31, 2019
Controlled Shotgun: November 4, 2019 - November 10, 2019
(WMU 85B) December 2, 2019 - December 8, 2019

Wild Turkey:
Spring Season: April 25, 2020 - May 31, 2020
Fall Season Bow: October 1, 2019 - October 31, 2019

Fall Season Firearm: October 15, 2019 - October 27, 2019

Migratory Birds:

Waterfowl other than Canada & Cackling Goose: September 28, 2019 - January 11, 2020

Canada and Cackling Goose Early Season: September 5, 2019 - September 15, 2019
Canada and Cackling Goose Regular Season: September 28, 2019 - December 31, 2019
Woodcock: September 25, 2019 - December 20, 2019
Mourning Dove: September 1, 2019 - November 30, 2019
Small Game:
Pheasant: September 25, 2019 - December 31, 2019
Gray (Black) Squirrel: September 25, 2019 - December 31, 2019
Cottontail and European Hare: September 25, 2019 - February 29, 2020
Hunting with Falconry Birds: September 1, 2019 - March 31, 2020
Licensed Furbearing mammal trapping does occur in the marsh. Please stay on the trail and maintain control of your dogs and children. Only those with FOH and MNRF approval may trap in the marsh.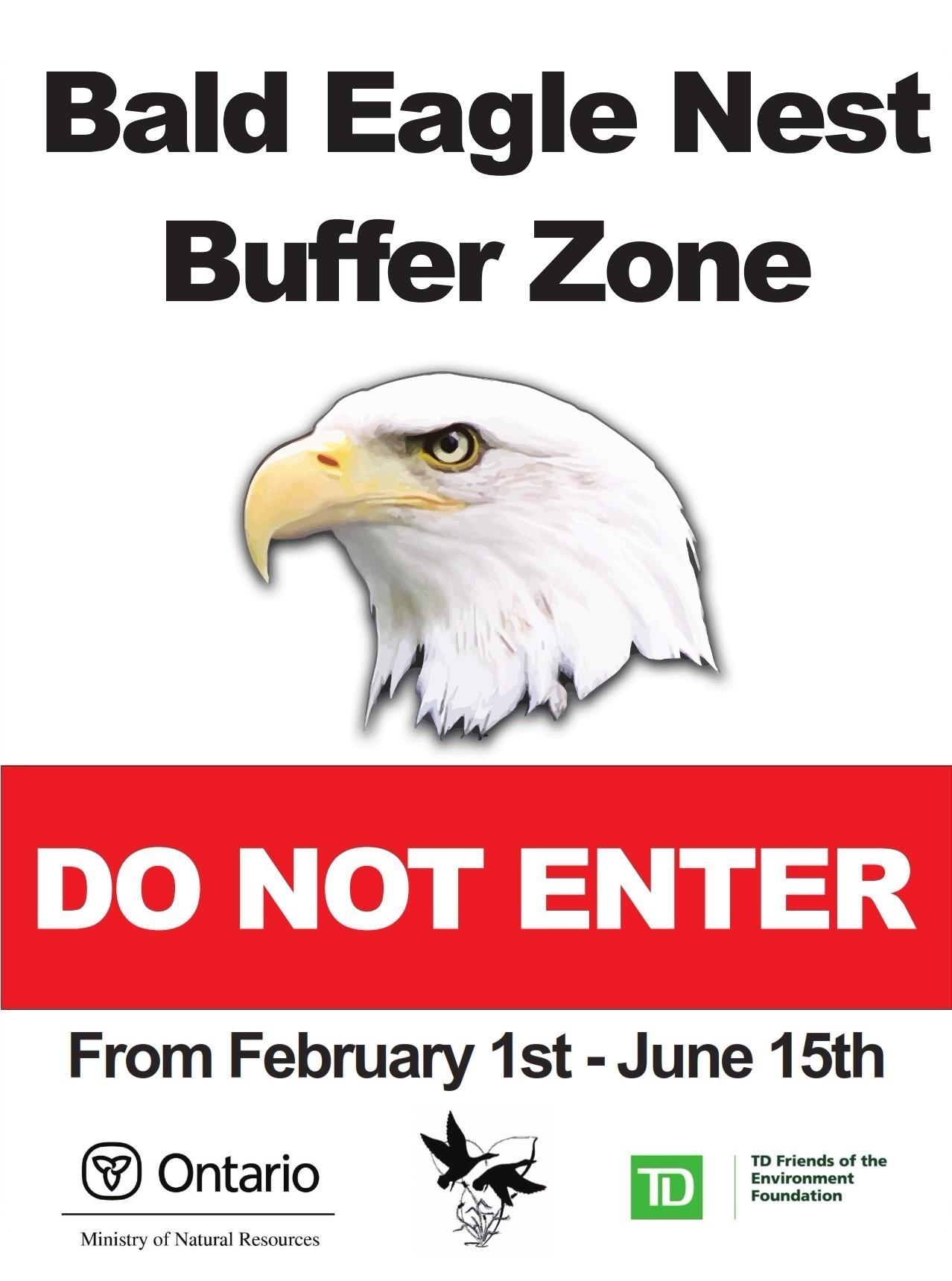 FOH established a 400-metre buffer zone in the fall of 2013 to protect our resident eagle nest from human disturbance. Our resident female is banded and now over 10 years old. Twelve eaglets have fledged since the Spring of 2013.
Please respect the privacy of the eagles and the perimeter around the nest site during the posted time period.
This buffer is active from February 1st to June 15th
7th Place Winner: Nancy Colling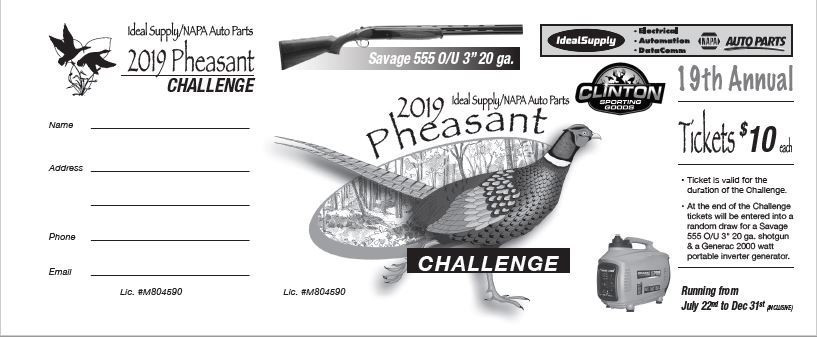 It's that time of year again! Friends of Hullett are selling tickets for our 19th Annual Pheasant Challenge! First place is a SHOTGUN donated by Clinton Sporting Goods and Second place is a Generac 2000W GENERATOR donated by Ideal Supply! Tickets can be purchased at: Hullett Office (through email if necessary), 7 Ideal Supply locations including Goderich, Wingham, St. Marys, Exeter, Stratford, Mitchell and Seaforth, and Clinton Sporting Goods. Get your tickets today to support Hullet's Pheasant Release Program!
CONGRATULATIONS TO OUR WINNERS!
SAVAGE 555 O/U SHOTGUN: STEPHEN WEBER OF PAISLEY
GENERAC 2000W GENERATOR: AARON LEPPINGTON OF STRATFORD
FOH

Annual Fundraising Dinner
Friends of Hullett would like to announce our 7th Annual Spring Fundraiser Dinner and Auction. This event will be held at Bluewater Golf Course in Bayfield on Saturday, April 18th, 2020. The evening includes dinner prepared by Chef Devon Tabor (Bon Vivant Catering), silent and live auction, door prizes and much more!

If you are interested in attending this event, contact FOH staff via email (fohoffice@tcc.on.ca) or by phone (519-482-7011). In addition to the purchase of the ticket, you will receive a $50 charitable tax receipt. Tickets can be purchased through the PayPal button below, E-Transfer, Debit/Credit Card, Cash or Cheque.
NEW THIS YEAR: Purchase a table for 4 or 8 and choose your table. Contact FOH for more details.
If you purchase your tickets before March 6th, 2020, you will be entered into a draw to win one of three prizes:
$50.00 gift certificate to Clinton Sporting Goods
$50.00 gift certificate to Maelstrom Winery
$50.00 gift certificate to River Road Brewing and Hops
PURCHASE YOUR TICKETS TODAY